September 21, 2018
The Toyota brand is a firm favourite in the taxi industry, excelling in performance and reliability that delivers exceptional customer satisfaction.  We caught up with long-standing Cab Direct customer Elgan Goddard of J.W. Goddard and Sons, in Cerrigydrudion, North Wales who has nothing but praise for the Toyota Avensis.
Thriving Business
The family run taxi company stands with a strong fleet of minibuses and cars and 20 dedicated employees.  Elgan, who runs the business with brother Huw Eryl, has three Toyota Avensis within the fleet which were all bought new from Cab Direct.
The Avensis is perfect for today's busy cab driver.  Whatever the job may be, this superb workhouse ensures reliability and provides comfort to all passengers.
Elgan said:  "We bought the Toyota because it was recommended to us and we were told that it was a very good car for use as a taxi.  All our passengers comment regularly on how comfortable it is to travel in."
The Toyota Avensis boasts superb performance too.  From the responsive, fuel efficient, BMW sourced D-4D diesel power plant to the smooth, 6-speed gearbox, Avensis is a joy to drive.
Comfort & Reliability
Elgan says the best features of the Avensis are:  "Comfort, plenty of space, reliability, good fuel efficiency" and says "it's lovely to drive with a quiet engine."
The Avensis also features an extensive range of features as standard including alloy wheels, Bluetooth connectivity and a 6-speaker radio/CD player.
Elgan continues:  "The drivers like the speed limiter, cruise control, assisted hill start and they find the anti-glare interior mirror very good when travelling on the motorways at night."
In addition to the Avensis, Elgan previously purchased a Peugeot 406 from Cab Direct 17 years ago and, remarkably, it's only just retired from the fleet.
Elgan said:  "The Peugeot has only recently left the fleet with an impressive 500,000+ miles on the clock.  It was a fantastic car and very reliable.  The Peugeot never let us down and our drivers are to be commended for looking after it so well inside and out."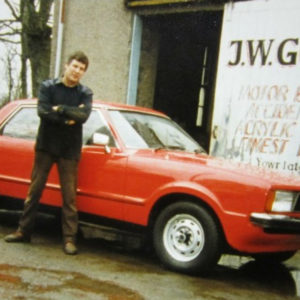 "J.W. Goddard and Sons has been established for over 40 years and started by our late father James Winston Goddard. He started the company as he saw an opening in the local market for a Private Hire Taxi company."
Delivering First Class Service
Cab Direct prides itself on delivering exceptional customer service and aftersales no matter what the nature of your business.
Returning customer, Elgan, comments on his experience when dealing with Cab Direct:  "The service we've received from Cab Direct has been fantastic, from order to delivery and beyond.  This has been the case for every vehicle we've purchased and that's why we keep coming back.  We would recommend any taxi company to purchase their vehicle from Cab Direct as they'll be well looked after."
Although both the Avensis and the 406 have been discontinued, you'll find a wide selection of Toyota and Peugeot taxis for sale at Cab Direct.  Click here to view our standard car range.